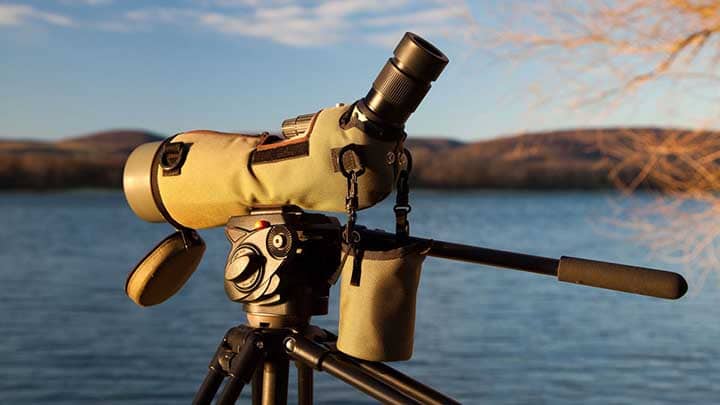 Are you looking for a new long-range optic, but can't decide between a spotting scope and a telescope? Both are useful tools with a ton of similarities, which can make it difficult to determine which will work best for you. In this article, we dive into the details of these magnifying optics, explore the strengths and weaknesses, and look at the best uses for each.
The main difference between spotting scopes and telescopes isn't their design, but their intended use. Spotting scopes are designed for terrestrial use, while the telescope's main purpose is viewing celestial bodies.
What is a Telescope?
A telescope is an optical device that uses a series of lenses and curved mirrors to collect light and focus an image while making it appear larger than when observed with the naked eye. 
The famous inventor and scientist Galileo Galilei was the first to point telescopes toward the stars. Since then, the telescope has been the most important tool in astronomy. Modern telescopes allow us to inspect far into the depths of the universe.
Types of Telescopes
Refracting Telescopes
Also known as "refractors," refracting telescopes consist of a series of curved lenses. Smaller versions of refracting telescopes may feature an internal image-erecting system, otherwise, the image viewed through this type of telescope will appear upside-down.
Refractors are commonly used to view the Moon, planets, and other features inside our solar system, as well as distant binary stars.
Objects viewed through a refractor usually appear slightly fuzzy. They may also have a specific color tint. Small imperfections in the polished lenses cause these distortions. The most common distortion associated with refractors is chromatic aberration. Chromatic aberration is "the failure of a lens or lens system to bring all colors to a common focus." It usually looks like a violet halo around bright celestial objects.
Reflecting Telescopes
Almost all of the major telescopes used in astronomy research today are reflecting telescopes. Also called "reflectors," reflecting telescopes use mirrors to reflect light to a focus rather than bending it through curved lenses. The main mirror is typically curved so that, as it reflects light, it inverts the image.
Reflectors have several benefits over their refracting cousins. First, because reflected light does not bend according to wavelength, reflector telescopes are not prone to chromatic aberration. Also, reflectors have shorter tubes, which cuts down on both size and cost.
Because reflectors produce sharper, clearer images than refracting telescopes, they are a great choice when viewing finer details. This makes them useful for deep sky viewing.
Catadioptric Telescopes
Catadioptric telescopes take the best features of the reflector and refracting telescopes and combine them into one versatile optic. Using both mirrors and lenses, catadioptric telescopes provide a wider field of view, making them ideal for viewing large portions of the night sky.
There are several different types of catadioptric telescopes. The two most popular are the Schmidt-Cassegrain and the Maksutov-Cassegrain.
Advantages of Telescopes
Powerful magnification for viewing objects at great distances.
Maximum light gathering abilities for nighttime viewing.
Disadvantages of Telescopes
Expensive.
Fragile.
Limited zoom capabilities.
Narrow field of view.
Large and bulky.
Telescopes are best for: viewing the moon, planets, galaxies, stars, and other celestial objects.
What is a Spotting Scope?
A spotting scope is technically a type of telescope. Most spotting scopes use the same setup as a refracting telescope. However, spotting scopes also feature an internal image erecting system. The erecting system allows the viewer to see a true-to-life image rather than one that is upside down or backward.
The image-erecting system often uses Porro or roof prisms similar to binoculars. Spotting scopes may also use catadionic systems like those used in Schmidt telescopes to erect the image. 
Because spotting scopes are typically used in the field, they often feature rugged exteriors that are durable and resistant to wet weather.
Most modern spotting scopes feature a mounting interface for tripod attachment and easy-to-use focus dials. High-end models may also have built-in reticles to help users range the distance to their targets.
Advantages of Spotting Scopes
Useful in both daylight and low-light situations.
Compact, portable design.
Durable construction.
Relatively affordable. 
Easy to use at shorter ranges.
Wide field of view allows the user to track moving objects.
Greater zoom capabilities.
Disadvantages of Spotting Scopes
Has limited viewing range compared to telescopes.
You can see fewer details on distant objects.
Spotting Scopes are best for: hunting, wildlife viewing, birdwatching, and other outdoor activities. Long-range target shooters also use spotting scopes to verify long-range shot placement.
Can I Use a Spotting Scope as a Telescope?
There are no hard and fast rules in the world of optics. You can certainly use a quality spotting scope to view objects in the night sky. A spotting scope can actually work well for amateur astronomers and is a smart option if you need to tote your optic a long distance before setting up. Its simple design often makes the spotting scope less intimidating than a high-tech telescope. Just don't expect to get a good view of deep space objects with a spotting scope. 
Can I Use a Telescope as a Spotting Scope?
Remember, there are no hard and fast rules. That means the answer is technically "yes". However, telescopes tend to be generally heavier, larger, and more difficult to use than the average spotting scope. The size and weight of a telescope aren't exactly very travel-friendly.
Telescopes also have narrower fields of view than spotting scopes, which makes it difficult to observe things below the treeline. If you need to scan the landscape for wildlife or track moving game, a spotting scope is definitely the better tool for the job.
Spotting Scope vs Telescope: Final Thoughts
By now, you should have a better grasp of the spotting scope vs telescope controversy.
If your optic's primary purpose will be viewing distant objects in the night sky, portability isn't an issue, and you have some extra cash to spend, purchase a telescope.
A spotting scope is best for viewing objects below the treeline and birds flying at lower altitudes. They can also be used for less detailed astronomical viewing, especially where durability and portability are a must.