Whether you're birdwatching, hunting, hiking, shooting, or enjoying a good round of golf, quality optics can enhance your outdoor experiences. From spotting scopes to rangefinders, modern outdoor lovers have a whole world of optical gear to choose from.
There are a ton of optics on the market, and even the most ardent outdoorsman may not know everything that is available. We've put together this basic guide of outdoor optics to help you understand not only what is available, but how it can complement and enhance your favorite outdoor sports.
Essential Optics for Outdoor Adventures
Binocular Basics
Binoculars (sometimes called field glasses) help you get up close and personal with the great outdoors. Basically consisting of two magnifying telescopes mounted side-by-side, binoculars allow the viewer to use both eyes to more comfortably view distant objects or wildlife.
When you purchase a set of binoculars, you'll find a series of numbers on the packaging that resemble a math problem. It is usually a set of two numbers with an "x" between them and should look something like this: 6×25.
The first number represents the magnification level of the lenses. In our example, we can see that the image viewed through the binoculars will appear 6 times (6x) larger than they look when viewed with the naked eye.
If there is more than one number before the "x", this means the binocular has multiple levels of magnification. If the numbers are separated by a dash (for example 6-10x), this means the binocular can zoom within that range of magnification (from 6 times to 10 times normal viewing size).
The second number indicates the size of the objective lens (the lens farthest away from the viewer). The objective lens lets light into the optic and is measured in millimeters. The higher the number, the larger the lens, and the more light the binocular can gather for effective viewing. Typically, a large objective lens produces a brighter, clearer image.
Hunting Binoculars
Not only do hunters need to know how and when to use their eyes, they also need to choose the right binoculars to help them spot and observe.
One of the most important factors when choosing binoculars for hunting is their durability. When you're in the woods, chances are good that your optics will get dropped, bumped, and knocked around. Hunters need binoculars that are sturdy and well-built to ensure they can survive rough hunting conditions. Look for binoculars that nitrogen purged and feature rubber armor to make them both fogproof and waterproof.
Birding Binoculars
Good birding binoculars will have slightly different characteristics than binoculars used for hunting. While hunters mostly use binoculars to spot game, birders use them to observe the fine details of the birds they observe. While serious birders will appreciate a compact binocular, they need to balance that with their need for a large objective lens that will provide bright, crisp detail.
Night Vision Binoculars
Night vision binoculars are unique because they allow you to see very clear images even when there is only weak light. Once relegated mostly to military use, today's night vision binoculars are used for a variety of civilian uses. Night vision binoculars are particularly useful for coyote, feral hog, and raccoon hunting. They can also be used for nighttime wildlife viewing as well as airsoft, paintball, and other outdoor nighttime war games.
Monoculars
A monocular is like a small-scale personal pocket telescope. Like binoculars, you use a monocular to view objects and wildlife that are far away. The difference is you use both eyes to view images through binoculars and only one eye with a monocular. Think of a monocular as one half of a good set of binoculars.
You can use a monocular for hiking, hunting, birdwatching, wildlife viewing, and even for observing the night sky. Some people prefer a monocular over a set of binoculars because they are more compact, lightweight, and easy to slip into your pocket.
Laser Rangefinders
Rangefinder is a relatively high-tech gadget that measures distance by using a laser beam. When the beam hits an object, it bounces back and is received by a sensor on the device. The rangefinder then uses the time it took for the beam to bounce back to the sensor and uses the data to calculate the distance to the object.
Most laser rangefinders are surprisingly accurate, offering readings accurate to within less than a yard. Some high-end rangefinders even display distance readings in decimal points, measuring to a tenth of a yard.
Rangefinders for Hunting
Many hunters use hunting rangefinder to help them make accurate shots. A rangefinder tells you almost the exact distance to your target, allowing you to make adjustments in your point of aim to compensate for bullet or arrow drop over distance. This is particularly important for bowhunters who can completely miss an animal if they misjudge the distance.
Hunters want to look for models that are rugged enough to endure bad weather and rough handling. You should also look for a rangefinder that works in lowlight conditions, since many shot opportunities occur in the dim hours just after dawn and right before dusk.
Rangefinders for Long-Distance Shooting
Estimating long distances with the naked eye is nearly impossible. Just like hunters, long-range competition shooters can use a rangefinder to let them know the exact distance to their target. For long distance shooting, choose a model that accurately measures distances beyond 600 yards.
Golf Rangefinders
Golfers can also benefit from using a laser rangefinder. Knowing the distance to the green can help you choose the best club to use to get your ball right where you want it. Some golf-specific rangefinders will focus directly on the flag, make specific club recommendations, and measure slope, although these gadgets may not be allowed in official tournament play.
Game & Trail Cameras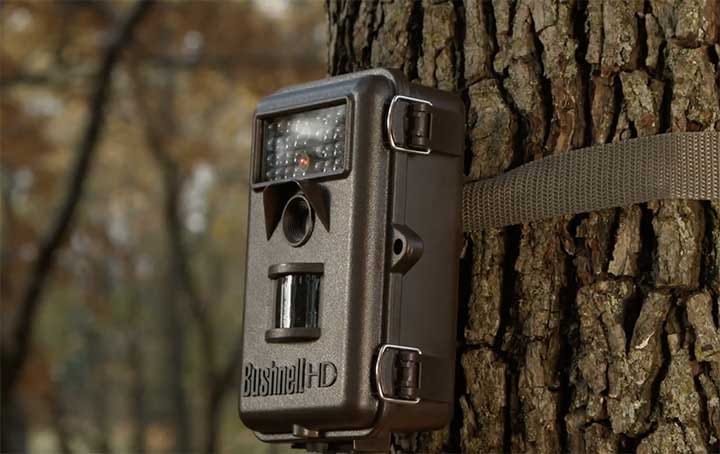 Although not technically optics, game and trail cameras are useful tools for observing game animals and other wildlife. These devices provide clear, detailed, high-resolution images and video without interfering with natural animal behavior.
You can simply install one of these durable, weatherproof cameras in any area you want to observe. Then turn it on, and leave it. The cameras are motion activated and automatically snap pictures (or record video footage) when the sensor detects movement.
Most trail cameras require an SD card that must be removed to download the images it captures. However, some high-end trail cameras allow you to watch a live stream of the outdoor action from your computer or smartphone.
Many hunters use trail cameras to help them understand the movement and behavior of game. However, some nature enthusiasts use them to enjoy watching undisturbed wildlife from the comfort of their own home. Trail cameras have also been used for important wildlife research, detection of rare species, and even to hunt Bigfoot!
Spotting Scopes
A spotting scope is a type of small telescope. Commonly used for spotting game animals or viewing distant birds and other wildlife, a spotting scope is typically preferred when you need more magnification than your standard binoculars can provide.
Spotting scopes come in a wide range of sizes, but they are generally more cumbersome than binoculars or monoculars. The intense magnification also requires a tripod or other stable platform for comfortable viewing.
With their higher power of magnification and higher image quality, spotting scopes understandably come with a higher price tag. You should expect to make a significant investment in a high-quality spotting scope. However, many outdoor enthusiasts are more than willing to pay more for high quality results.
Night Vision & Thermal Optics
It's no secret humans have a hard time seeing at night. Both night vision and thermal optics address this problem by helping us see what's going on in the dark. However, they use two very different methods to accomplish that goal.
Night Vision
Night vision devices require some sort of ambient light. This is true whether you opt for night vision binoculars or a night vision scope. Usually, the moon and stars provide enough light for the device to produce a viewable image. However, many modern night vision optics are equipped with an infrared illuminator. 
Night vision goggles (and other optics that use the same technology) provide surprisingly detailed images.
Night vision optics do have some drawbacks, particularly their price and durability. The image intensification tubes they use to amplify ambient light are sensitive and are easily damaged when exposed to bright sunlight.
Thermal Optics
Many hunters choose to use a thermal scope instead of a night vision scope. Thermal optics detect radiation, allowing you to see the heat signature of other living things. Since thermal optics detect heat, they don't need ambient light to produce viewable images.
One major advantage of thermal imaging is that it can often detect even the tiniest animals. You can also use them to see animals obscured by thick brush.
Some hunters dislike thermal optics because they tend to be larger and heavier than their night vision counterparts. It can also be hard to determine proper shot placement as the image often lacks significant detail.
Gun Scopes
A gun scope is a series of lenses to magnify images with a reticle to help determine where a bullet will impact the target. Simply put, a scope is a telescope with crosshairs. Scopes are used for hunting, self-defense, tactical, and target shooting, although the type of scope necessary for each application may be vastly different.
Most modern shooters choose to mount some sort of scope on their firearms. Although scopes were once relegated to the rifle ranks, it isn't uncommon to find them mounted to modern shotguns and handguns, too. Whichever scope you choose, you need to know if it suits your type of firearm and can handle the recoil it produces.
Not every scope will work well for every shooting application. A scope designed for precision long-range competition shooting just isn't going to work well for the rough conditions of three-gun competition where fast target acquisition is key.
Before you invest in any gun scope, be sure to do some research to make sure it fits your style of shooting and is compatible with your weapon's type and caliber.
Scopes & Sights by Gun Type/ Caliber/ Others
Gun Sights
Shooting a firearm requires accurate aim. To accomplish that, shooters need some sort of aiming device. Most firearms come with iron or open sights. For some shooters, those factory-installed Glock sights just won't do. Thankfully, you can take your shooting to the next level by adding a reflex sight (like a red dot or holographic sight), or laser sight to your pistol or rifle.
Red Dot Sights
There is no built-in magnification on a red dot sight (which is why they are not called "scopes"). Designed for close to mid-range shooting, a red dot sight is a simple optic that uses a red dot to assist with accurate aiming.
A red dot optic uses a Light Emitting Diode (LED) to project a dot onto a specially coated, slightly angled piece of glass. The glass bounces the image of the dot back toward the shooter's eye.
The shooter can see the red dot reticle, but it is invisible to others. To aim, the shooter simply lines up the dot with the target and pulls the trigger.
Check out this article for the best rated pistol red dot sights.
Holographic Sights
A holographic sight is a bit more complicated than a standard red dot. These high-tech optics use a laser and a series of mirrors to transmit a reticle back to the shooter's eye. The reticle (which is often more complex than a simple red dot) actually appears to float in front of the weapon, making it easier to line up with your target.
Holographic sights are optically, electronically, and tactically superior to red dot sights. They also have a much higher price tag, although they are well worth the investment.
Summing It Up
If you want to get up close and personal, you can use binoculars or a spotting scope to magnify distant animals and landscapes. Night vision and thermal optics allow you to peer into the darkness. You can use a game or trail camera to record what's happening in the woods when you aren't around. And if you're a shooter, you can definitely benefit from a scope or gun sight. No matter what type of outdoor activities you enjoy, there is a high-tech optic designed to enhance your visual experience.