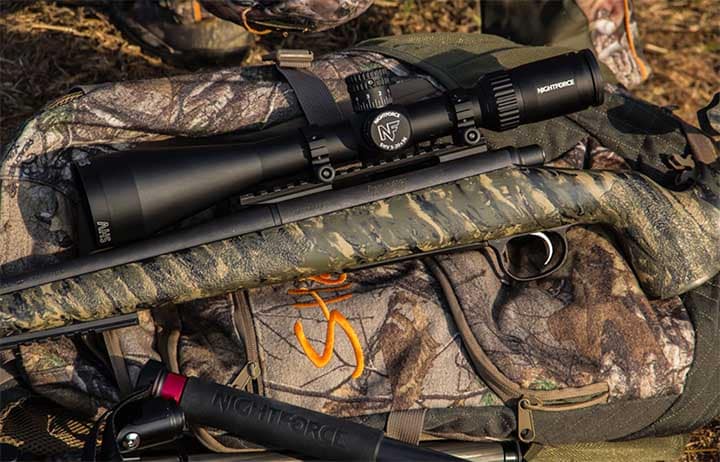 There is nothing quite like a day spent shooting varmints. Varmint hunting is a sport that combines the fast-paced action of target shooting with the excitement of pursuing game. The seasons and bag limits are usually generous, and the shot opportunities come quickly and frequently.
Varmint hunting isn't only fun, it is also necessary. Varmint hunting helps control pest populations and protects both crops and property.
A variety of different rifles and calibers are suitable for varmint hunting, but one thing remains consistent between all of them. No matter what rifle or caliber you choose, adding the best varmint scope can make the difference between success and failure.
If you don't have time for the details, check out the list below for the best rated varmint scopes:
Variety of Calibers for Variety of Varmints
There are many calibers that are ideal options for varmint hunting. Appropriate calibers are typically smaller than their big game counterparts. They also produce flat trajectories and minimal recoil. Let's take a quick look at some of the most popular varmint hunting calibers.
The .22 Long Rifle
Perhaps the most ubiquitous varmint hunting caliber of them all, the .22 long rifle is perfect for hunting all sorts of varmints. Countless squirrels, chipmunks, and ground squirrels have fallen victim to a well-placed .22 bullet on farms and in forests around the world.
The .22 long rifle cartridge is dirt cheap, a pleasure to shoot, and more than capable of handling its fair share of varmints.
The .17 HMR
This rimfire round is not quite as popular as the .22 long rifle but is still a capable varmint round. In fact, its ballistic performance is a major step above the .22LR. The .17 HMR cartridge has eye-popping velocity and bullets that break apart on impact, which does not bode well for any critter in your crosshairs.
Some hunters use the .17 HMR on varmints as large as coyotes, but its real forte is prairie dogs, jackrabbits, and pesky groundhogs.
The .22-250 Remington
When utilizing 40 to 45 grain bullets, a .22-250 Remington round can scream its way down range with speeds in excess of 4,000 feet per second. That is a huge amount of speed, and it is that speed that helps the .22-250 stand out among other varmint cartridges.
This cartridge can easily dispatch larger varmints, such as coyotes and bobcats. It can also reach the long ranges some varmint hunting requires. Set up a few hundred yards away from a prairie dog colony with a .22-250, and they won't know what hit them.
The .223 Remington
The .223 is extremely popular among all kinds of shooters. This cartridge is one of the most common chamberings used in AR-15 rifles. It just so happens that the AR-15 platform makes for a nearly perfect varmint hunting loadout.
The .223 can reach out to 500 yards before running out of steam. It is readily available, and the price tag won't break the bank. While it may not be the best varmint hunting caliber on paper, it remains one of the most popular rounds due to its versatility and affordability.
The .243 Winchester
For the varmint hunter after larger sized game, or for the varmint hunter who also enjoys big game hunting, the .243 Winchester is an ideal cartridge. With the ability to drop even the largest wild hog, this cartridge can take a 55 grain bullet down range at over 4,000 feet per second.
In addition to being death incarnate for varmints of all shapes and sizes, the .243 can be loaded with bullets large enough to take on big game, including deer or elk. For the hunter who needs a high degree of versatility, the .243 Winchester is hard to beat.
The Art of Choosing a Varmint Scope
There is no one-size-fits-all option for a varmint hunting scope. The scope you choose will depend on your varmint hunting goals. Does your hunting spot require long distance accuracy, or will your typical shot be under 100 yards? Are you targeting coyotes or wild hogs at dusk? Planning to eliminate some pesky groundhogs in the afternoon?
You can see where I'm going with this. It is important to really consider your personal needs before choosing a scope.
This list of the best rated varmint scopes will highlight some of the top options for a variety of different hunting conditions, calibers, and purposes.
Best Varmint Scope on the Market Reviews
1

Zeiss Conquest V4 6-24×50 Rifle Scope
Coming in at just under $1000, the Zeiss Conquest V4 6-24×50 Rifle Scope is one of the best scopes for varmint hunting on the market today.
Zeiss is known around the world for producing high quality glass optics for hunting. With 90% light transmission, this scope performs well in any condition, including low light and wet weather.
With up to 24x magnification and side parallax adjustment, the Zeiss Conquest can help pull every bit of accuracy out of your rifle, spelling doom for varmints at any range.
2

Vortex Optics Crossfire II 3-12×56 Hog Hunter Riflescope
Whether you're targeting wild hogs or not, the Vortex Optics Crossfire II Hog Hunter scope is a great choice for varmint hunting.
It works particularly well for varmint hunting in low light conditions, which is when many varmints, including hogs, are most active. The oversized objective and V-Brite reticle allow hunters to quickly acquire targets, even when there isn't much light available.
This scope, available for under $300, also features the quality that has made Vortex Optics famous among hunters and target shooters alike.
Waterproof, fogproof, and shockproof, the scope is made with a single-piece construction and nitrogen purging.
3

Leupold VX-Freedom Rimfire Riflescope
If a perfect squirrel hunting scope exists, it might just be the Leupold VX-Freedom Rimfire Riflescope. The fact that this scope can be purchased for under $200 is remarkable.
Parallax on this scope is adjusted for 60 yards, which is ideal for squirrel hunting. The ¼ MOA finger click turrets make fine-tuning accuracy in the field both quick and easy.
This 100% waterproof, fogproof, and shockproof rimfire varmint scope also features a Rimfire-MOA reticle for taking accurate shots at a variety of ranges.
4

SWFA SS 10×42 Ultralight Rifle Scope
Although it isn't the best known brand in the shooting optics market, SWFA makes a quality rifle scope. The glass is surprisingly good, and the overall construction of SWFA scopes is extremely solid.
The SWFA SS 10×42 Ultralight Rifle Scope won't win any beauty contests, but it will do exactly what you need it to do in the field. The lightweight and slim profile means it won't tire out your arms after a long day of varmint hunting.
5

Bushnell Banner Dusk & Dawn Multi-X Reticle 6-18X 50mm Riflescope
The Bushnell Banner Dusk & Dawn is a great option for budget-conscious hunters. Coming in around the $120 mark, this scope offers excellent value.
It performs well in low light and has impressive magnification for the money. The 50mm objective lens enhances light transmission, which is also improved by Bushnell's Dusk & Dawn Brightness optics coating.
The scope works well for coyote hunting, where the quarry is extra cautious. When the coyotes refuse to come within range until the light fades, you'll be happy to have the Bushnell Dusk & Dawn mounted on your rifle.
With 3.5 inches of eye relief and a fast-focus eyepiece, this scope allows hunters to quickly acquire targets. This scope features ¼ MOA fingertip adjustments for both windage and elevation. It is also 100% waterproof and fogproof.
6

Monstrum G2 6-24×50 FFP Riflescope
When it comes to affordable, top-quality optics, Monstrum is one of the best. Although their G2 riflescope definitely falls in the "budget" category, it performs like a high-end varmint scope.
The G2 features an etched-glass, first focal plane reticle with multiple illumination settings. The highly detailed MOA reticle allows for quick range estimations and faster windage and holdover corrections. Make no mistake. This is a match-grade reticle that pops in any light condition and remains constant through the entire magnification range.
Built for rough use and tough environments, the G2 is ultra sturdy. The scope is o-ring sealed and nitrogen purged, making it reliably waterproof and fogproof.
7

NightForce SHV 5-20x56mm Riflescope
If long range varmint hunting is your forte, look no further than the NightForce SHV 5-20x56mm Riflescope. This powerhouse has everything a long range hunter could want. With some of the best glass in the industry, NightForce scopes can hold their own against any other scope out there.
The 56mm objective lens on the NightForce SHV allows for tremendous light transmission.
The NightForce's Zeroset technology allows you to quickly return to your original zero, no matter how many windage or elevation changes you make.
This scope also features NightForce's MOAR reticle. This reticle is ideal for hunting varmints of all sizes. It has .125 MOA lines, which allow for ranging and holdover adjustments on even the smallest targets.
While the scope is a little pricey, it is well worth the money. This optic will likely outperform any scope you've ever used.
8

Burris 200261 Ballistic Plex 2-7x32mm
The Burris 200261 Ballistic Plex 2-7x32mm scope is an incredible value for the money. It offers hunters top-end performance without breaking the bank.
This value scope is also ideal for quick, heads-up shooting on fast-moving varmints, because it offers fast target acquisition even with both eyes open. The Posi-lock posts ensure that your point of impact won't change in the field.
9

BSA 6-18X40 Sweet 17 Rifle Scope
Specifically calibrated for the cartridge, it is easy to understand why the BSA Sweet 17 Rifle Scope is the best varmint scope for .17 HMR. In fact, this scope is calibrated for both 17 grain and 20 grain .17 HMR cartridges.
This scope has solid turrets with audible click adjustments, as well as adjustable parallax.
10

ATN X-Sight 4K Pro Smart Day/Night Rifle Scope
Once the sun goes down, all sorts of varmints venture out from their daytime hiding places. Any varmint hunter worth their salt knows that hunting after dark can be extremely effective. There is one little problem…human night vision is atrocious. Luckily for us, we became smart enough to create night vision scopes to help us see in the dark.
The ATN X-Sight 4K Pro Smart Day/Night Rifle Scope provides hunters with an incredible level of technology. This scope helps you be an effective hunter both during the day and at night. It is packed with a variety of impressive features, including a ballistic calculator, HD streaming and video recording, and 18+ hours of battery life.
It is hard to believe that a night vision varmint hunting scope with these features comes in under $600. Mount this scope on your favorite varmint rifle, and those varmints won't be able to hide under the cover of darkness.
Check this article for the best thermal scope.
Final Thoughts
There are a ton of great cartridges for varmint hunting, which means there are also a lot of scope options on the market. Make sure to take a few minutes to really consider what you need from a varmint scope. That information, and this list, will help you make the right decision on the best varmint scope for your specific needs.